Anna, French student at Berlitz
The efficiency of personalised face to face courses
Our individual face to face training is the most efficient way to m aster a new language. The constant stimulation through dialogue exchange and an exposure to a variety of accents are at the core of a personalised programme in order to develop real linguistic skills, whether professional or general.
The Berlitz grading system from 1 to 10 correlates to the CEFR – A1 to C2. Each level is equal to thirty hours of training.
Our training courses are available as face-to-face or distance learning courses.
---
DESCRIPTION
---
Following an online or oral test and an analysis of your project, a tailored programme will be suggested to you, according to your needs and objectives.
Programme contents : General French, Business French
Modules : Email, Telephone, Customer Service, Social Situations for Business, Business writing….
Flexible organisation : Start off and progression of courses according to student availability.
Evaluation method : at the end of all our courses, you will be tested orally by our instructors in order to verify achievement of goals and to obtain a Berlitz certificate.
BENEFITS
---
Level-adapted content oriented to key needs and priorities
Oral skill development, maximum student talking time, switching between several accents, real life situations
Evaluation of progress throughout the training with fixed objectives
Level certification according to the programme offered : BRIGHT, LEVELTEL
ID CARD
---
1. OBJECTIVES
Improving or getting your level back up to what it was for professional or personal needs.
2.PRE-REQUIREMENTS
None. Personalisation will be relative to level and objectives.
3. WHO IS IT FOR?
Individuals and Companies.
4. CONTENT
Working on the 4 language skills : comprehension, expression, oral and written.
5. NATIVE INSTRUCTORS
Qualified native-level speaking instructors.
6. EVALUATION
Evaluation of progress all the way from start to finish of the training with a final assessment and the possibility of an official certificate.
7. HOW TO REGISTER ? WHEN CAN I START?
Contact us for tailor-made quote. Less than 72 hours following financial agreement. Our training courses are available as face-to-face or distance learning courses.
Proposed route example
30H - FRENCH BERLITZ BUSINESS 4
Recommended pace
- or 2 x 1h30 per week
- or intensive course 5 days x 6h
registration fee included-possibility of 100% financing with your CPF
The 5 fundamental principles of the Berlitz method
1. Optimisation of student participation
2. Maximum use of the target language; no translation or reformulation
3. Enjoyable and practical training based on oral comprehension and expression, consolidated by written comprehension and expression
4. Grammar only taught as a tool for communication. Learning through role plays and social situations.
5. Interactive and adapted training catering to the needs of the student, targeting their field of activities and interests
The means to achieving your language goals
Elimination of nervousness and apprehension of language lesson, thanks to the Berlitz instructors
Constant stimulation of oral expression to gain more spontaneity
Development of oral comprehension when facing your partners
Improvement of listening and written comprehension skills by using our pedagogical material (homework exercises to consolidate skills learned during face to face lesson)
Acquisition of general and business vocabulary, as well as expressions and idioms.
The Berlitz learning cycle
---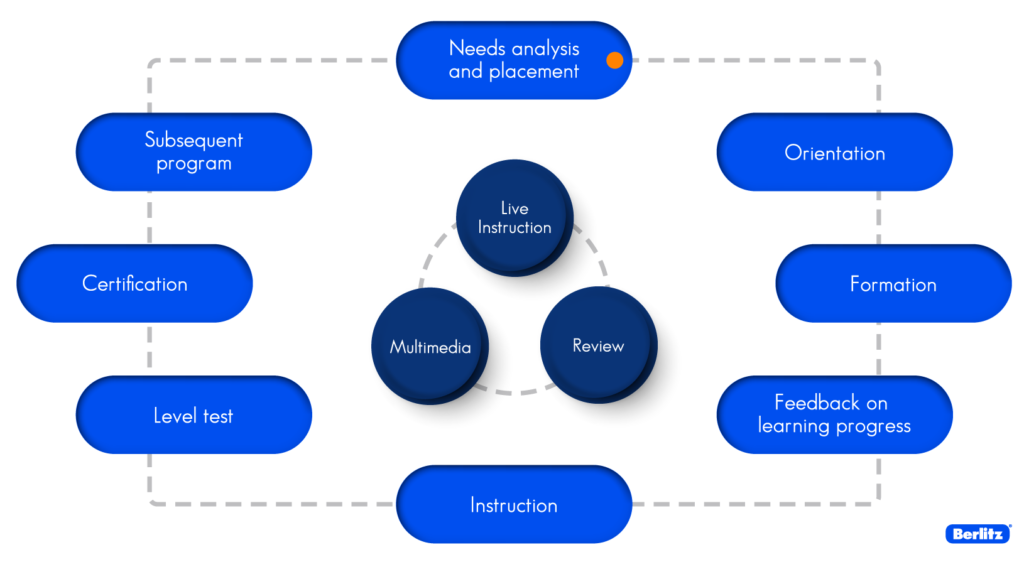 Access to our training for students with disabilities or difficulties
---
Your personal details and availabilities will be taken by mail or by telephone.
Our dedicated disability advisor will get back to you in total confidentiality.
Given that our trainings can be provided through video conference, they are easily accessible to all.
All appropriate provisions are taken carefully for the final examination.